About Us
About the Company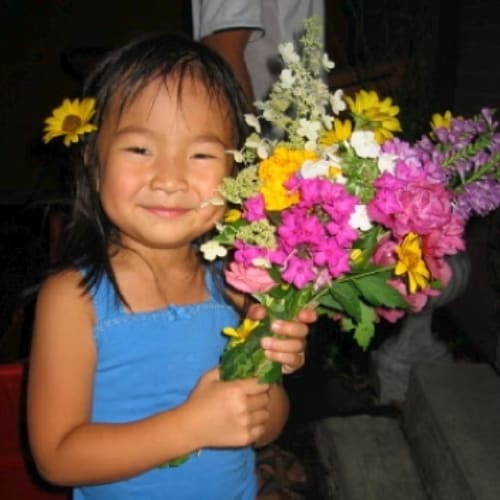 Simply Flowers proudly serves the GTA area. We are a full-service florist in Toronto centrally located in Scarborough at 8 Roper rd (M1L 0C2) and a second location on the path at 55 University ave (M5J 2H7). We are committed to offering only the finest floral arrangements and gifts, backed by service that is friendly and prompt. We know that all of our customers are important, so our professional staff are dedicated to making your experience a pleasant one. That is why we always go the extra mile to make your floral gift perfect.
As a Toronto Florist, Simply Flowers is making every effort to become environmentally friendly and to lesson our ecological footprint. About 80% of all our flowers are locally grown in Ontario. If you want to help our local farmers, please ask our staff for local products at time of ordering. We also encourage our customers to bring in any unwanted vases that they no longer need or use. In return we will give you a 10% off coupon to use on your next floral purchase. Thank you for supporting Simply Flowers in this effort.
Pictured above: Our future florist in training holding a wildflower bouquet.

Let Simply Flowers be your first choice for flowers.
simply flowers 8 Roper Rd
8 Roper Road
Toronto,ON M1L 0G6
---
Additional Information:
Our shop is open from 10a.m. to 6:00 p.m., Monday through Friday and 10:00 a.m. to 3:00 p.m. on Saturdays. We do answer our phone and check messages outside of our store hours. Our operating hours will also be extended to 8pm during Valentine's Day and Mother's Day.

We are closed on Sundays but open from 9:00 a.m. to 6:00 p.m. on Sundays during Valentine's week and Mother's Day weekend.

To help assure on-time delivery during the busy holiday season, place your order at least 1 day prior to the following major holidays: Thanksgiving Day, Christmas Day, New Year's Day, Valentine's Day, Easter, Administrative Professionals Week, Mother's Day, Memorial Day, Father's Day, Independence Day and Labor Day.

Our shop will always be closed on the following holidays: Thanksgiving Day, Christmas Day, New Year's Day, Easter, Family day, Victoria's Day and Labor Day.
Payment Information
We accept the following payment methods
Visa
Mastercard
American Express
Contact Information
If you have any questions or need more information, please call us directly at (416) 979-3384 or (877) 838-4458 or send us an email at blueroseflorist@gmail.com or simply_flowers@bellnet.ca. We're always here to serve you and make your flower-sending experience a pleasure!
You can always visit us at:
Simply Flowers
8 Roper Road
Toronto, ON M1L 0G6
FREE street parking at this location
OR
55 University ave
Toronto, ON M5J 2H7
Specialty Services
We specialize in the following services:
Large inventory of fresh flowers
Tropicals
Office Plants
European/dish gardens
Contemporary and traditional arrangements
High-style floral arrangements
Silk arrangements
Orchid plants
Weddings
Funeral designs for home or office
Sympthy flowers for funeral service
Extensive gift line
Gourmet and fruit baskets
Gift baskets
Greeting cards
Lucky bamboo
Hospital get well flowers
Areas Served
Our shop offers same day deliveries direct from our Toronto location to the following areas in Ontario: Toronto M5, East York, Scarborough M1, Etobicoke M4, North York M3 M6, Willowdale M2 ,Mississauga L4 L5, Oakville L6, Brampton L6R-L6Z, Woodbridge, Vaughan, Richmond Hill L4B-L4S, Markham L3P-L6E, Pickering, Whitby, Oshawa, Concord and all across the GTA. The cut off time for delivery to these areas is 11:00 a.m. If you have any special time request please call our shop directly (additional charges may apply).
Note: A general delivery charge of $12.95 applies to all orders. However additional delivery fee will be added to orders going out of Toronto in The GTA (ie: Vaughan, additional $2 added)
We also deliver all across Canada, USA (same day) and internationally (3 business days) across the world using our affiliate florists.
We also deliver to the following facilities
Abbeyfield Houses Society
Abbeyfield Lakeside House
Adonna's Residential Group Hm
Alexis Lodge
All Seniors Care Living Ctrs
Alpha Omega House
Altamont Care Community
Atrium at Kew Beach Retirement
Balmoral Club
Barton Place
Basic Funeral Svc
Bates & Dodds Funeral Svc
BayBridge Seniors Housing
Beach Arms Retirement Res
Belmont House
Benisasia Funeral Home Inc
Bill McMurray Residence
Bradgate Arms
Briar Crest Retirement Home
Bridgepoint Health Foundation
Briton House
Cardinal Flahiff Basilian Ctr
Cardinal Funeral Homes
Carewell Holdings Inc
Carl Elliott Chapel
Carter Manor Ltd
Cedarbrook Lodge
Centenary Health Ctr
Central Clinic
Chartwell Avondale Retirement
Chartwell Guildwood Retirement
Chartwell White Eagle Long
Chester Village
Cheung On Chapel Ingram
Christian Science Nursing Svc
Christie Gardens Apartments
College Garden Home
Core Lab
Counsel Corp
Cowan House
Craiglee Nursing Home
Davenhill Senior Living
De Marco Funeral Home Ltd
De Savery Manor Retirement
Dignity Memorial
Dowling Rest Home
Eden Manor
Elm Grove Living Centre
Enderby Manor
Extendicare
Fairview Nursing Home
Family Health Ctr
Forest Hill Place
Forever Monuments Inc
Giffen-Mack Funeral Home &
Glebe Manor Retirement
Grenadier
Hazelton Place
Hellenic Home For The Aged
Heritage Funeral Centre
Heritage Nursing Home
Highland Funeral Home
Hospital For Sick Children
Humber Regional Hospital
Humphrey Funeral Home
Ina Grafton Gage Home
Jerrett Funeral Home
Jerrett Funeral Homes
Kennedy Lodge Long Term
Kennedy Residence
Kensington Gardens
Laughlen Centre
Lawton Park Retirement Apts
Liburd Centre
Lynett Funeral Home
Maynard Nursing Home
McClintock Manor
McDougall & Brown Funeral Home
Meadowcroft Place
Meighen Retirement Residence
Metro Capital Group
Midland Gardens Seniors Apts
Millennium Community Building
Mon Sheong Home For The Aged
Morley Bedford Funeral Ser
Mount Sinai Hospital
Murray E Newbigging Funeral
National Eating Disorder Info
New Horizons Tower
Newediuk Funeral Home A. Roy
Newediuk Funeral Homes,
Nisbet Lodge
Norwood Nursing Home
O'connor Brothers Funeral Home
O'neill Centre
Ogden Funeral Homes
Paul O'Connor Funeral Home Ltd
Pine Hills Cemetry
Princess Margaret Hospital
Providence Healthcare
R.S. Kane Funeral Home
Ralph Day Funeral Home
Ray McCleary Towers
Residential Retirement Group
Rockcliffe Care Community
Rosar-Morrison Funeral Home
Rouge Valley Health System
Runnymede Chronic Care Hosp
Ryan & Odette Funeral Home
Scarborough Funeral Ctr
Scarborough Retirement Centre
Seniors For Business
Shared Hospital Laboratory Inc
Shepherd Village
Sherrin Funeral Home
Sovereign Capital Group
Spencer House
Spinal Cord Injury Ontario
St David's Village
St Joseph's Sr Citizens Apts
St Michael's Hospital
St Peter & Paul Residence
St. Anne's Place
St. George Care Community
St. Joseph's Health Centre,
Sunnybrook Holland Orthopaedic
Sunnybrook Hospital
Tendercare Nursing Home Ltd.
Terra Nova
The Annex
The O'Neill Centre Long Term
The Rekai Centre at Sherbourne
The Scarborough Hospital
The Scarborough Hospital -
The Teddington Retirement Res
Tony Stacey Centre For Veteran
Toronto Grace Health Centre
Toronto Grace Hospital
Toronto Rehabilitation Inst
Toronto Rehavilitation Inst
Toronto Western Hospital
Trull Funeral Home & Cremation
Turner & Porter Funeral Ltd
Turner & Porter Yorke Chapel
Vermont Square
Versa-Care Ctr Ltd
Village Park Retirement Rsdnc
Washington & Johnston Funeral
Wexford
Wilmar Court
Wing On Funeral Chapel
Women's College Hospital
Yee Hong Centre for Geriatric
Delivery Policy
Local Delivery
For guaranteed same-day delivery, please order before 11:30 a.m.
We do not gurantee any timed deliveries on Valentines day or Mother's day. Business will be delivered between 9am-5pm, and residentials will be done from 9am-9pm.
A standard delivery charge of $12.95 is applied to all Toronto area orders. Additional Delivery charges applies to all GTA areas.
Same Day Delivery
Our same day delivery includes all of Toronto and the Greater Toronto Area, West to Hamilton, North to Aurora/Newmarket and East to Oshawa. Orders for the rest of Ontario, Canada, and the US can be delivered the same day if received before 11:30 a.m. EST.
For same day delivery after 10:30am EST, call (416) 979-3384 or 1-866-856-0550. Orders receieved after 11:00 a.m. on Saturday will be delivered the following business day (ie. Monday, or Tuesday following a long weekend).
Normally, orders are delivered between 10:00 a.m. to 6:00 p.m. Orders placed after 11:30 a.m. will fall into the next day's delivery time period. During holiday periods and episodes of inclement weather the delivery time frame may be extended up to 2 hours. If the recipient is not home, the flowers may be left with a neighbour, and the recipient notified. Additional delivery charge may apply if second delivery has to be made or if address is incorrect.
Priority Service
To arrange priority service, please call our store directly instead of placing your order online. Additional delivery charges will apply.
Please make sure all relevant information such as full names, address, appartment number, city/town, buzzer codes, and phone numbers are correct. Any wrong information may delay delivery time/date.

We will do our best to accommodate deliveries at specific times of day, but we cannot guarantee it.

We are unable to make deliveries on Sundays. Deliveries requested on this day will be delivered the following business day.

Delivery of orders to rural route addresses or cemeteries cannot be guaranteed.


International Delivery
To arrange for international deliveries, to locations outside the United States and Canada please call our shop directly. International deliveries can be made within 2-3 business days. The overseas delivery fee is $20.00. We are unable to accept international orders over the Internet.
Substitution Policy
Occasionally, substitutions may be necessary to create your bouquet due to the availability of certain flowers in various parts of the country. Care is taken to maintain the style, theme and color scheme of the arrangement, using flowers of equal value. Additionally, the substitution of certain keepsake items may be necessary due to increased demand, especially during major holidays. In single-flower arrangements, such as an all rose bouquet, or orchids, we will make every attempt to match the flower type, but may substitute with another color.