Shop by: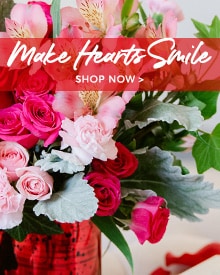 anniversary flowers downtown toronto delivery, anniversary flowers scarborough delivery
Anniversary flowers for Downtown delivery in Toronto is just a call away. Simply Flowers is a friendly florist in Toronto, Scarborough Ontario that have same day delivery of a large selection fresh, flowers such as blue roses (toronto), rainbow roses(Toronto, red roses Toronto, white roses, pink roses, yellow roses, lilac roses and more to name a few. Our experience staff can creat beautifull handtied bouquets, flowers for birthdays, arragements for funerals, centrepiece for weddings, flowers
Birthday Flowers
Simply Flowers in Toronto and Scarborough have been delivering fresh flowers for over 15 years. We are your trusted friendly local florist that hand delivers all freshly made flower bouquets, flower arrangements, tropical plants, gift baskets, birthday flowers, anniversary flowers, new baby flowers, congratulation flowers, Valentine's day flowers, monter's day flowers, funeral flowers, sympathy flowers for the home or office. You name it, we do it all with love and passion! We are a florist in
Get Well Flowers
Nothing says "Get Well Soon" like a vibrant bouquet of fresh flowers! Look no further for get well gifts than Simply Flowers. We deliver get well flowers to Toronto, ON or nationwide to brighten their day! You can even send a plant or a modern bouquet, either way, they'll be sure to get well soon!
Flowers for Love & Romance
Romance isn't just for Valentine's Day, celebrate your love every day with a romantic gift from Simply Flowers! From romantic roses to modern masterpieces to plants that last as long as your love, we have the perfect bouquet to express your emotions! Your romantic flowers can be delivered locally to Toronto, ON or nationwide!
Make Someone Smile Flowers
Celebrate Make Someone Smile Week every day! Simply Flowers has all the best flowers to make someone smile and laugh or cheer someone up! Simply Flowers offers a wide selection of flowers online and delivery to Toronto, ON or any where you would like! You can even send them a long lasting plant or a dozen romantic roses, anything goes!